This homemade elderberry syrup (a super cough suppressant) is the ultimate flue fighter! It has added mullein leaf to make the strongest defense against all colds! It's that time of year when it seems that every time your kid comes home from school he/she brings back a new cold! Don't worry parents! be prepared to build up your child's immune system so they can fight off these colds much easier and FASTER!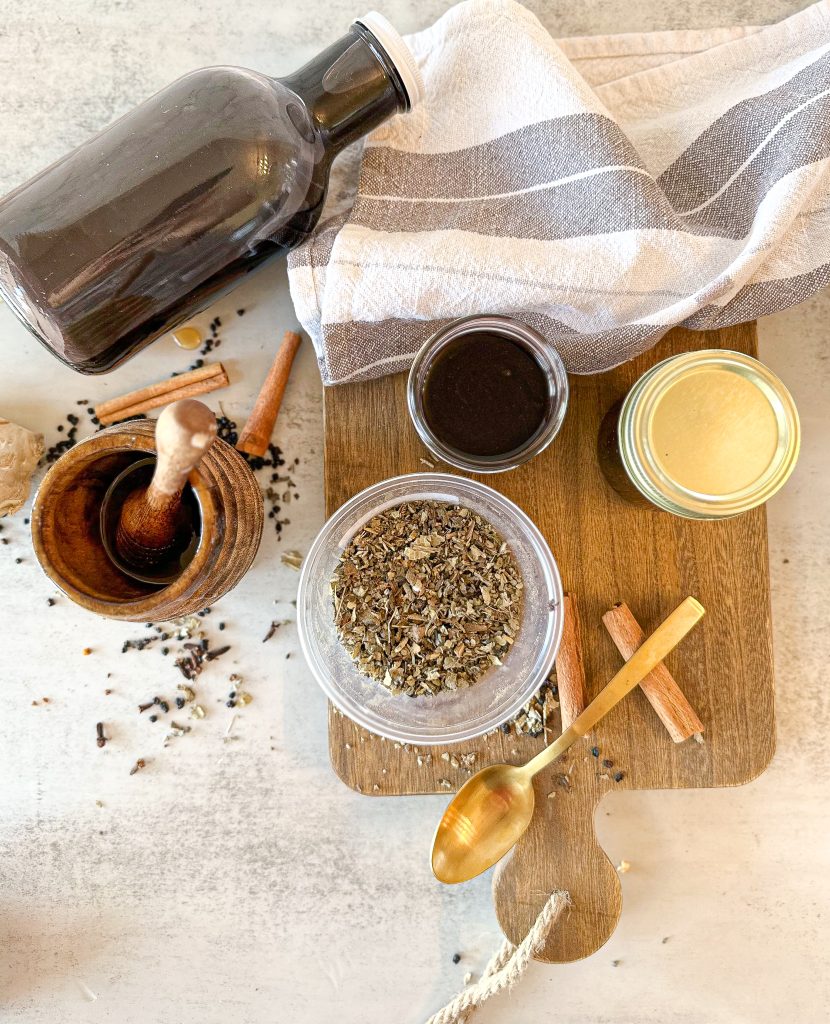 AS AN AMAZON ASSOCIATE, THIS POST MAY CONTAIN AFFILIATE LINKS, THIS WILL NOT CHANGE YOUR PRICE BUT WILL SHARE SOME COMMISSION WITH OUR FAMILY.
Use this homemade Elderberry Syrup recipe to keep your family healthy all year round!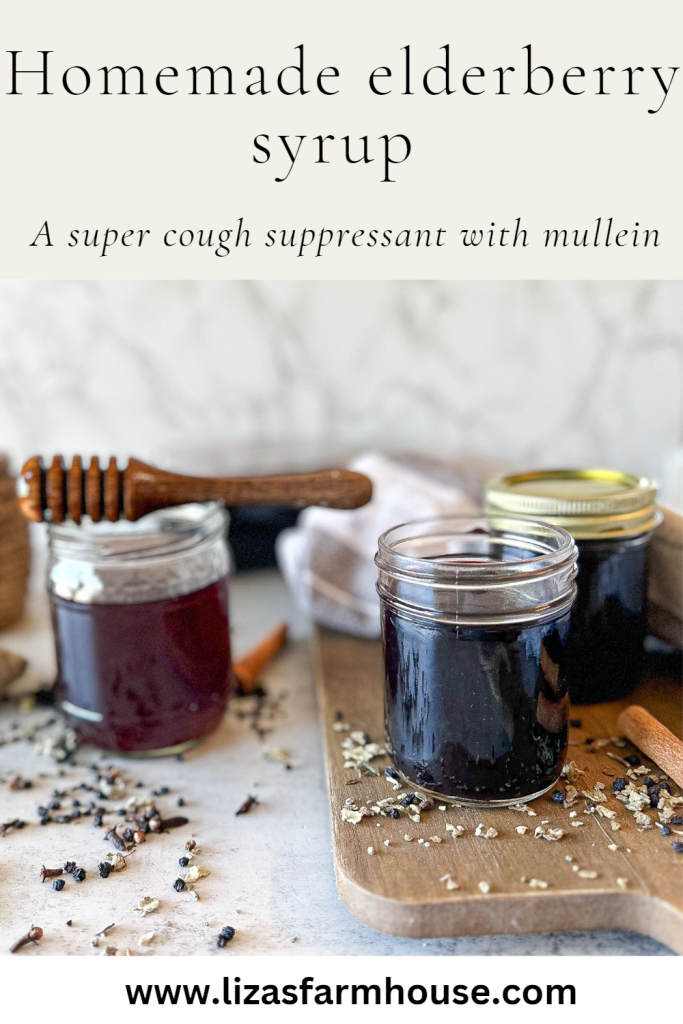 This flu season we will fight back in the best way we possibly can, with fewer doctor visits. This syrup is sweetened with raw organic honey to make a delicious syrup even your small children will like to drink!
This syrup was a game changer for our family when I wanted to get away from traditional medicine and use more herbal remedies instead. The ingredients in this syrup have so many medicinal properties! It is liquid gold! Be prepared for those winter months, make this super defense syrup against all colds.
What makes this homemade elderberry syrup a super cough suppressant?
This elderberry syrup has one secret ingredient that you usually don't see in elderberry syrups, Mullein leaf! What are the health benefits of elderberry and why did I add mullein leaf?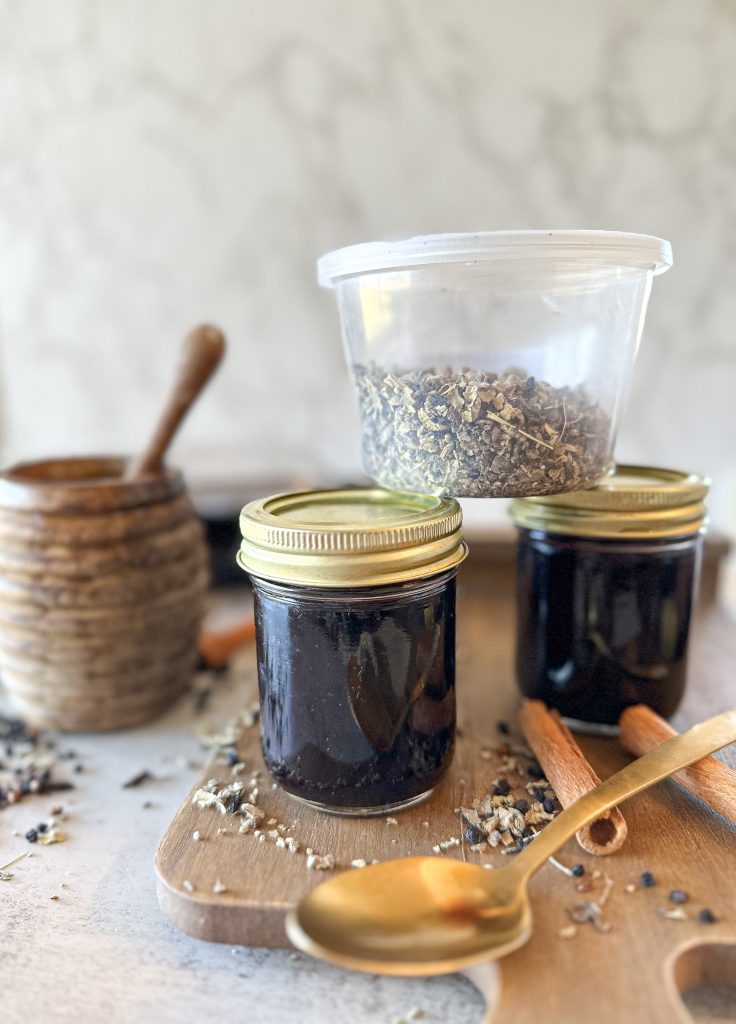 what is mullein?
Common mullein is a medicinal plant readily found on roadsides, meadows, and pasture lands.
Mullein plant has many health benefits:
used to treat pulmonary problems
inflammatory diseases
asthma
spasmodic coughs
diarrhea
migraine headaches
relaxes lungs
soothes sore lungs
relieves earache
used in treatment for influenza
Mullein has been used traditionally as a remedy for the respiratory tract, including bronchitis. It works as an expectorant, meaning it helps expel mucus. Expectorant herbs help loosen bronchial secretions and make the elimination of mucus easier. It is known for its ability to promote the discharge of mucus and soothe mucous membranes.
That means when your child has stubborn mucus that is hard to get out, mullein leaf will be beneficial to add to their elderberry syrup!
Add the syrup to hot water to make tea!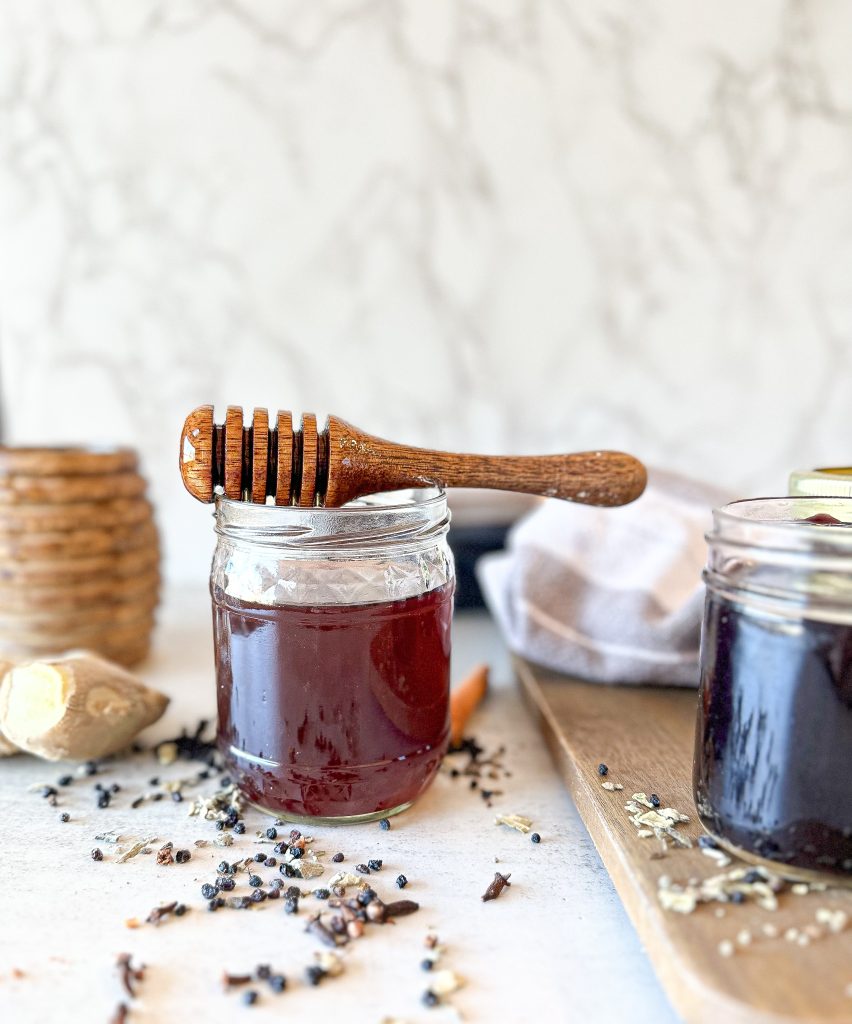 What are the benefits of elderberries?
Elderberry extract has been shown to significantly improve or reduce cold and flu symptoms, and it may help you get over your symptoms faster when taken at the first sign of illness.
A study has proven its effectiveness in this study:
Boost the immune system
Fights and protects against bacterial infections
Fights and protects against viral infections
Reduce the symptoms and duration of a cold or the flu
helps clear sinus infections
has natural diuretic effects and promotes bowel movements
anti-inflammatory properties
anti-carcinogenic properties
eases symptoms of allergies
high in antioxidants
high in vitamin A, which makes it great for healthy skin
reduces stress
may help lower a fever
antioxidant
Elderberry has been used in folk medicine for centuries to treat influenza, colds, and sinusitis, and has been reported to have antiviral activity against influenza. elderberry extract has been shown to reduce flu symptoms by an average of 4 days! when taken within the first 48 hours of symptoms appearing.
I have elderberry syrup on hand at all times in my fridge. The only problem is that store-bought elderberry syrup is expensive! So a few years ago a taught myself to make my own elderberry syrup! I realized that it is actually a very easy recipe to make and you can make either big batches or small batches, depending on my family's demand at the time. This homemade elderberry syrup ( a super cough suppressant) recipe is really easy and worth the effort for the money saved. If you make your own syrup you get to control the sweetener. And you can know for a fact that it contains all organic ingredients with no hidden additives.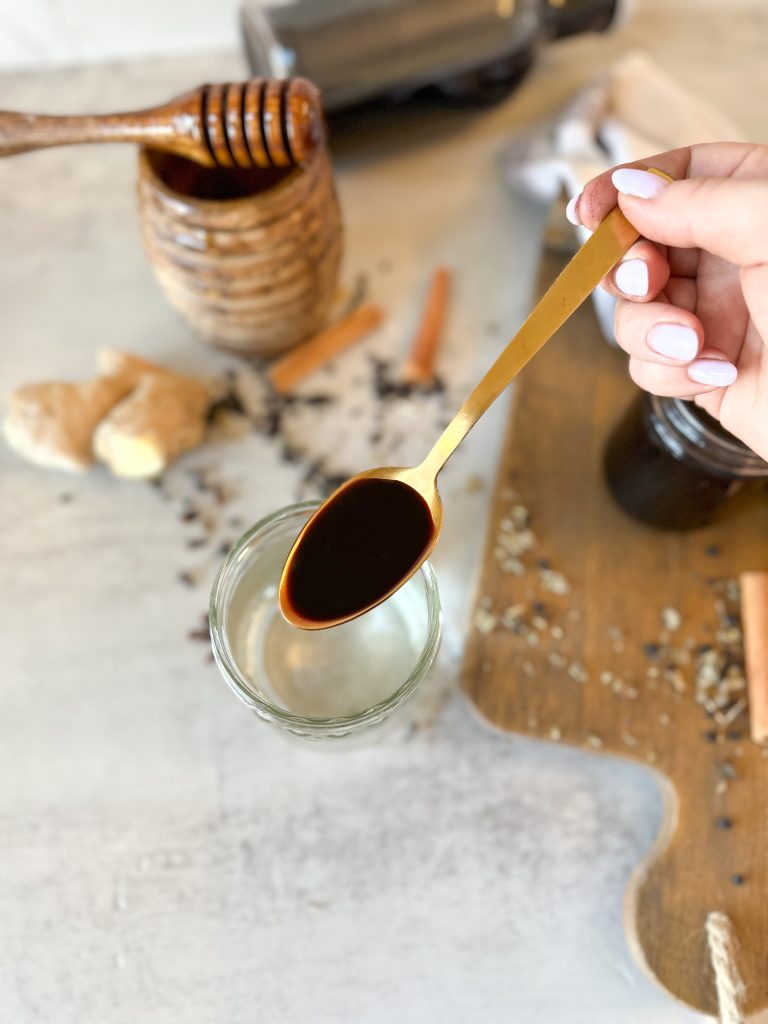 Doses for children
A child that is younger than 1 year of age should not consume honey. You can substitute honey for a safer option like maple syrup or agave.
You can also make this syrup without the mullein to drink in small doses every day to keep your immune system strong at all times! I usually make two batches at once. One without mullein so I can give my kids 1 teaspoon every morning to help boost their immune system, and one batch with mullein leaf for when they do get sick. When they are sick I give them 1 teaspoon 3-4 times a day until the symptoms reduce. (usually a few days) It is a natural remedy that I know I can count on! When my kids complain of a sore throat or if I hear a cough I immediately give them homemade elderberry syrup to help their little bodies fight any infection! Not in my house…you nasty germs! nice try though 😉
I am NOT a healthcare provider, you should ask your doctor before taking anything new.
Doses for adults
You can take 1 tablespoon daily to keep a strong immune system and take 1 tablespoon 3-4 times a day when you feel the first symptoms of a cold or the flu. Take along with vitamin c for extra immune-boosting power!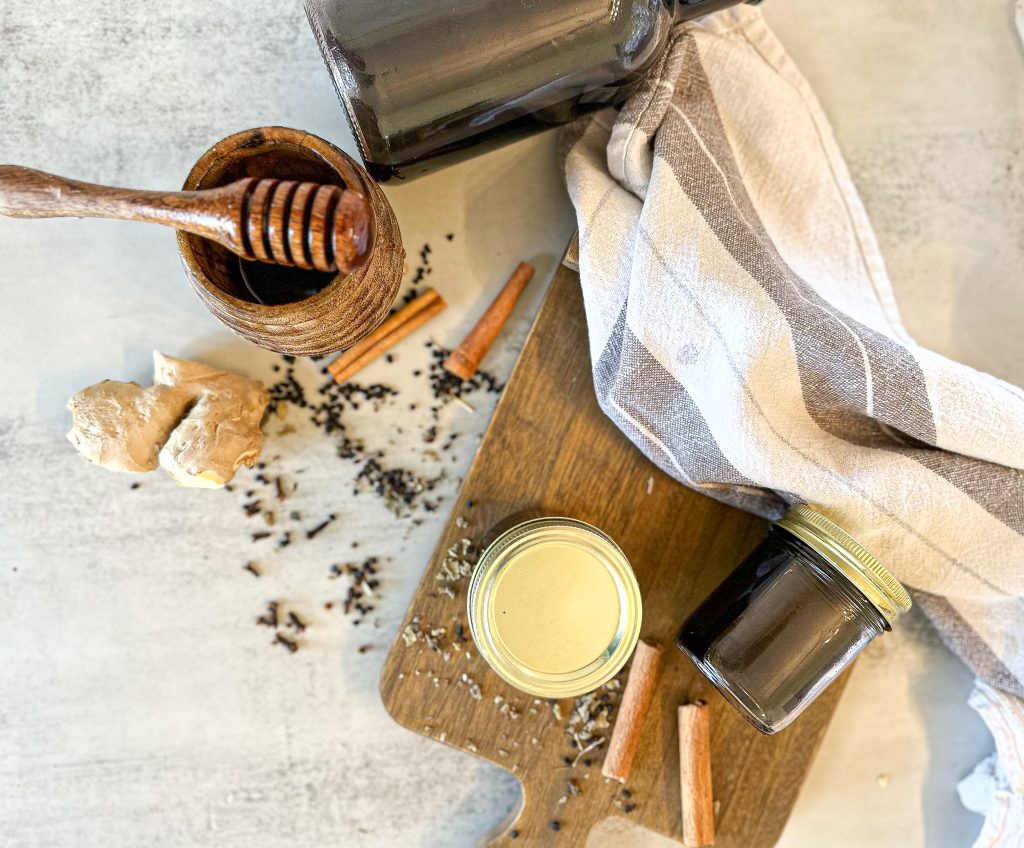 homemade elderberry syrup ( a super cough suppressant) makes a great gift!
I always sneak in a jar of my homemade elderberry syrup into a wellness basket or when I am visiting a friend and I don't want to show up empty-handed…trust me your friends will love you for it! It is my favorite way to show someone I love that I care.
Where to buy elderberries
First things first, you have to get yourself some dried elderberries which you can get from amazon! with their 2-day shipping, you'll be ready to make some immune-boosting syrup in no time!
where to buy mullein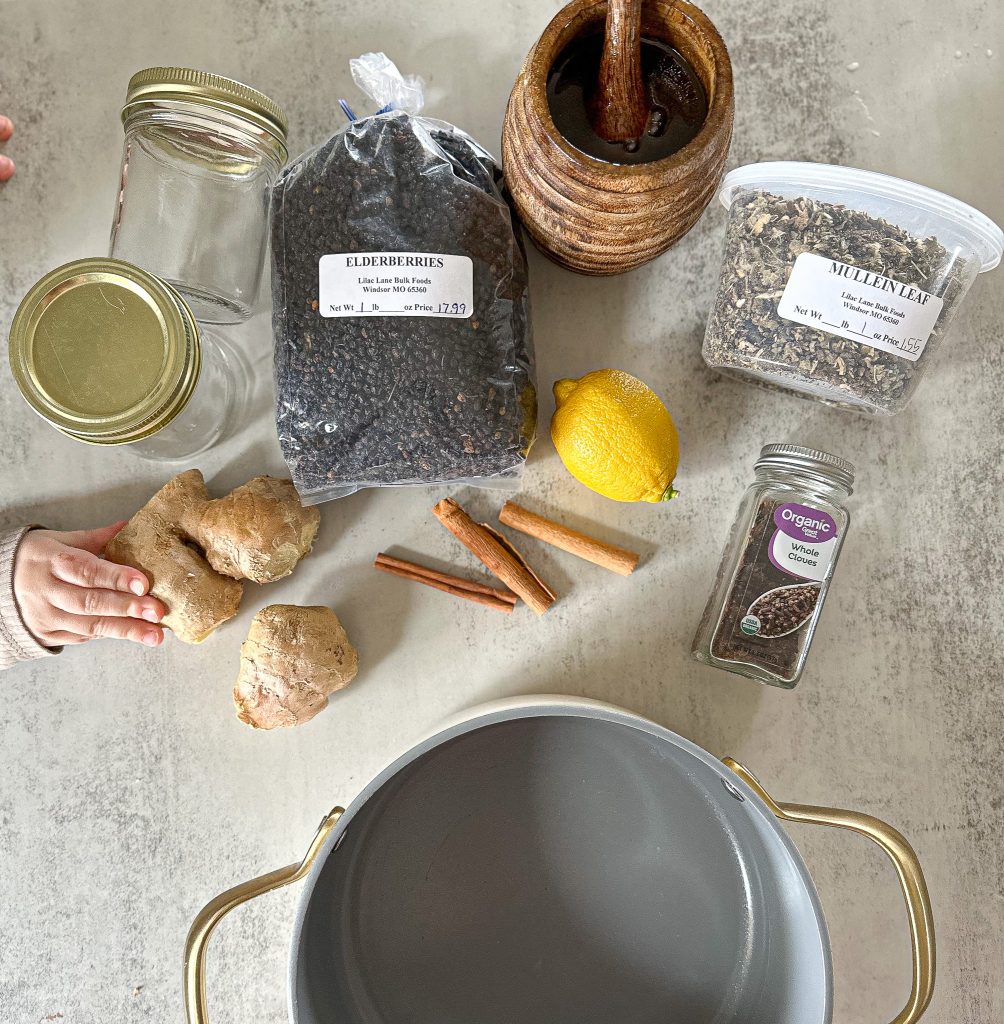 Ingredients
4 cups dried elderberries
2 tablespoons grated fresh ginger
1 tablespoon organic whole cloves
lemon peel from 1 lemon
1 cup local raw honey (or a sweetener of your choice)
3 cinnamon sticks or 1/2 tablespoon organic cinnamon
1/2 cup mullein leaf
8 cups of water
each one of these ingredients has its own benefits, but elderberry syrup is flexible! you can add or take away some ingredients to cater to what you need! I saw some recipes with turmeric in it or anise star. You can also use fresh berries instead of dried elderberries. You can use the basics of this recipe or you can change it slightly to what you have on hand. Such as cinnamon powder instead of cinnamon sticks.
Tools you will need
large pot
mixing tool
measuring spoons and cups
How to make homemade elderberry syrup recipe ( a super cough suppressant)
To a large pot add all the ingredients except the honey: elderberry fruits, grated or cubed ginger, whole clove, lemon peel, cinnamon, mullein leaf, and water. (if you are using fresh elderberries only use 2 cups instead of 4 cups)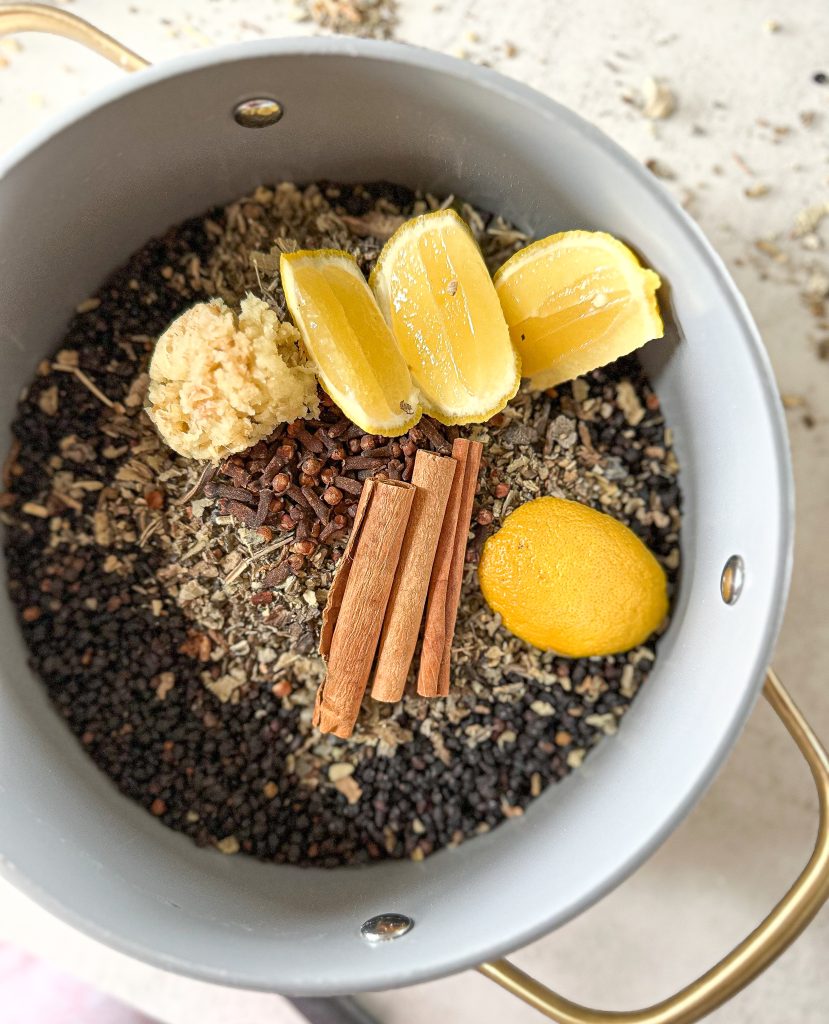 If you want elderberry syrup for daily use to make your immune system strong don't add the mullein leaf. I only recommend adding mullein leaf if you are fighting a cough.
Bring the pot to a boil then lower it to a slow simmer on low heat. Cover with a lid then let the syrup simmer for 45 minutes. Turn the heat off and bring the syrup to room temperature.
Strain the elderberry liquid through a fine sieve. Press down on the berries with the back of a wooden spoon to make sure you squeeze all the liquid out of the berries so you aren't wasting any. You can also put all the contents in the pot into a cheesecloth to make sure that everything is strained out!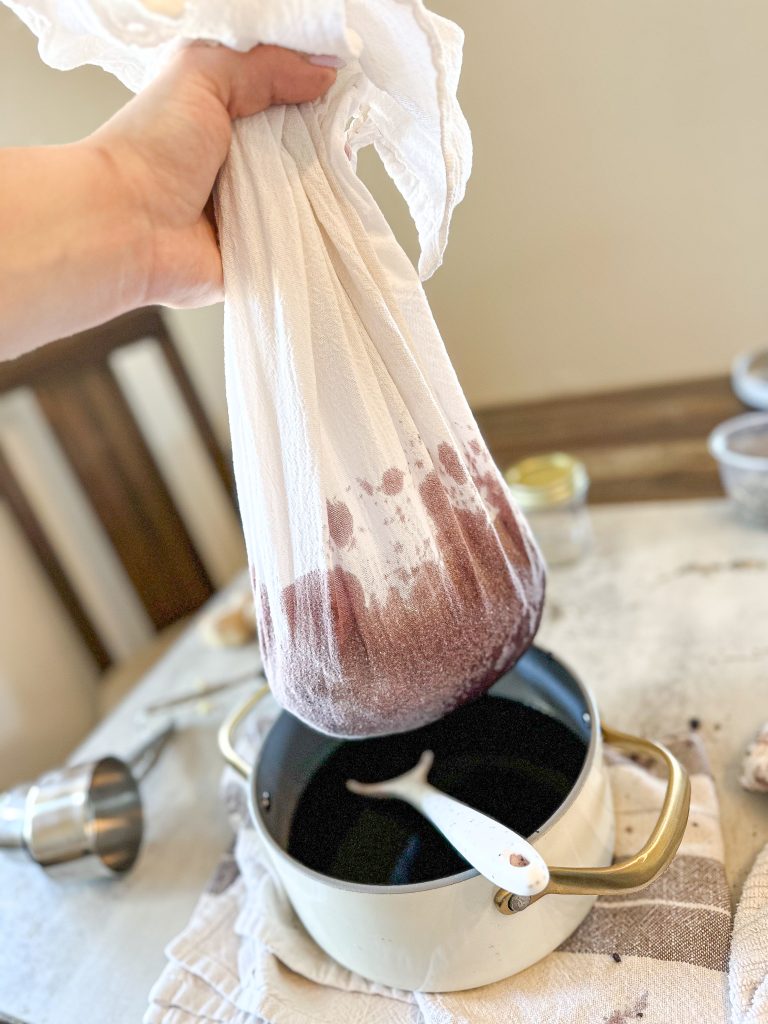 Add raw local honey into the elderberry liquid and mix it so the honey incorporates with the syrup. The reason why I wait for the liquid to cool down before adding the honey is because heat kills all the good benefits of raw honey! This way we are preserving everything as organic as possible with its maximum benefits. If you are not able to source local raw honey where you live, you can find raw honey at your local grocery store. Or you can order raw honey on Amazon. The honey sweetens the syrup so your kids will take it easily. It's a win-win!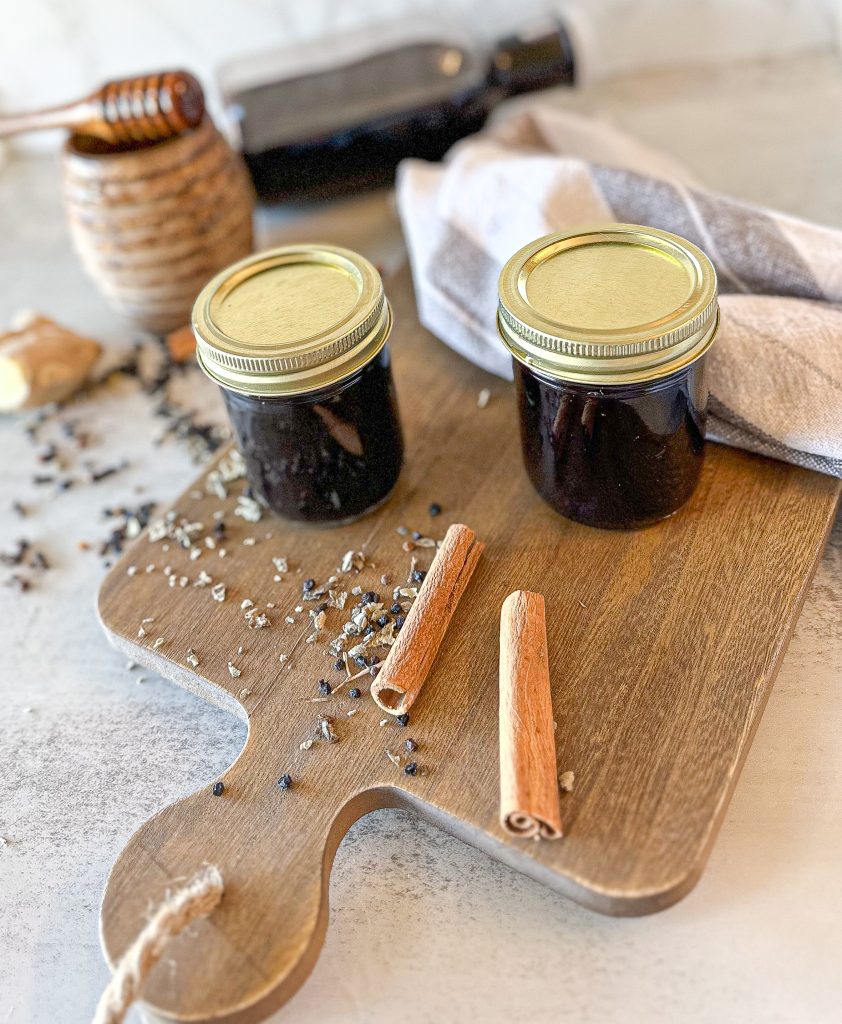 Sanitize your jars by washing them in warm soapy water then pour the homemade elderberry syrup ( a super cough suppressant) into an airtight container and store it in the fridge. It will last for about two months. For adults, take 1 tablespoon daily, and for children, 1 teaspoon daily. If you or your children are experiencing sickness or feel something coming on, that dose should be repeated 3-4 times daily.
Pin it for later!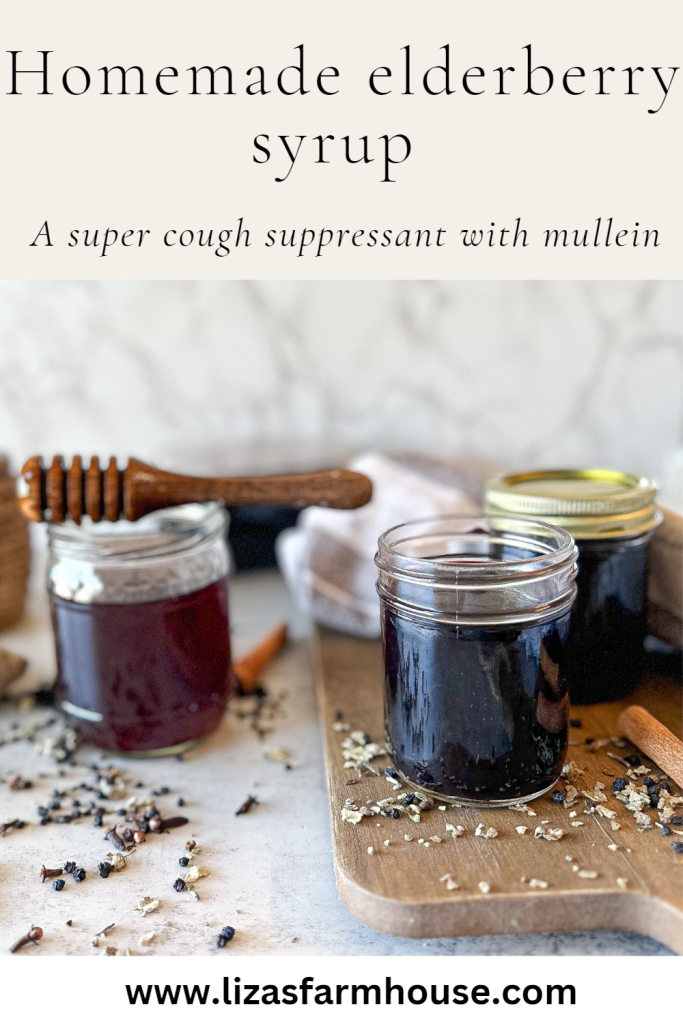 [mv_create key="1″ type="recipe" title="HOMEMADE ELDERBERRY SYRUP (A SUPER COUGH SUPPRESSANT)" thumbnail="https://lizasfarmhouse.com/wp-content/uploads/2023/03/Homemade-elderberry-syrup-a-super-cough-suppressant.png"]
Recent posts
Cucumber avocado and corn salad
Like this post? please leave a comment and a rating below!